After winning "Most Promising Startup" in 2016, Aspect wins "Company of the Year - Scale" and "Gamechanger - Ambition" in 2023
On September 29, 2023, the technology industry in our home province of British Columbia came together to celebrate the 30th Anniversary of the Technology Impact Awards (TIAs), presented by BC Tech. Aspect Biosystems was a finalist in two categories, and we are immensely grateful to have won both: "Company of the Year - Scale" and "Gamechanger - Ambition."
Company of the Year - Scale: "acknowledges a scaleup tech company that is an emerging leader and role model in the BC technology industry."
Gamechanger - Ambition: "recognizes the gamechangers of BC's tech sector who aren't afraid to tackle big problems, lead from the front and use tech to build a better future!"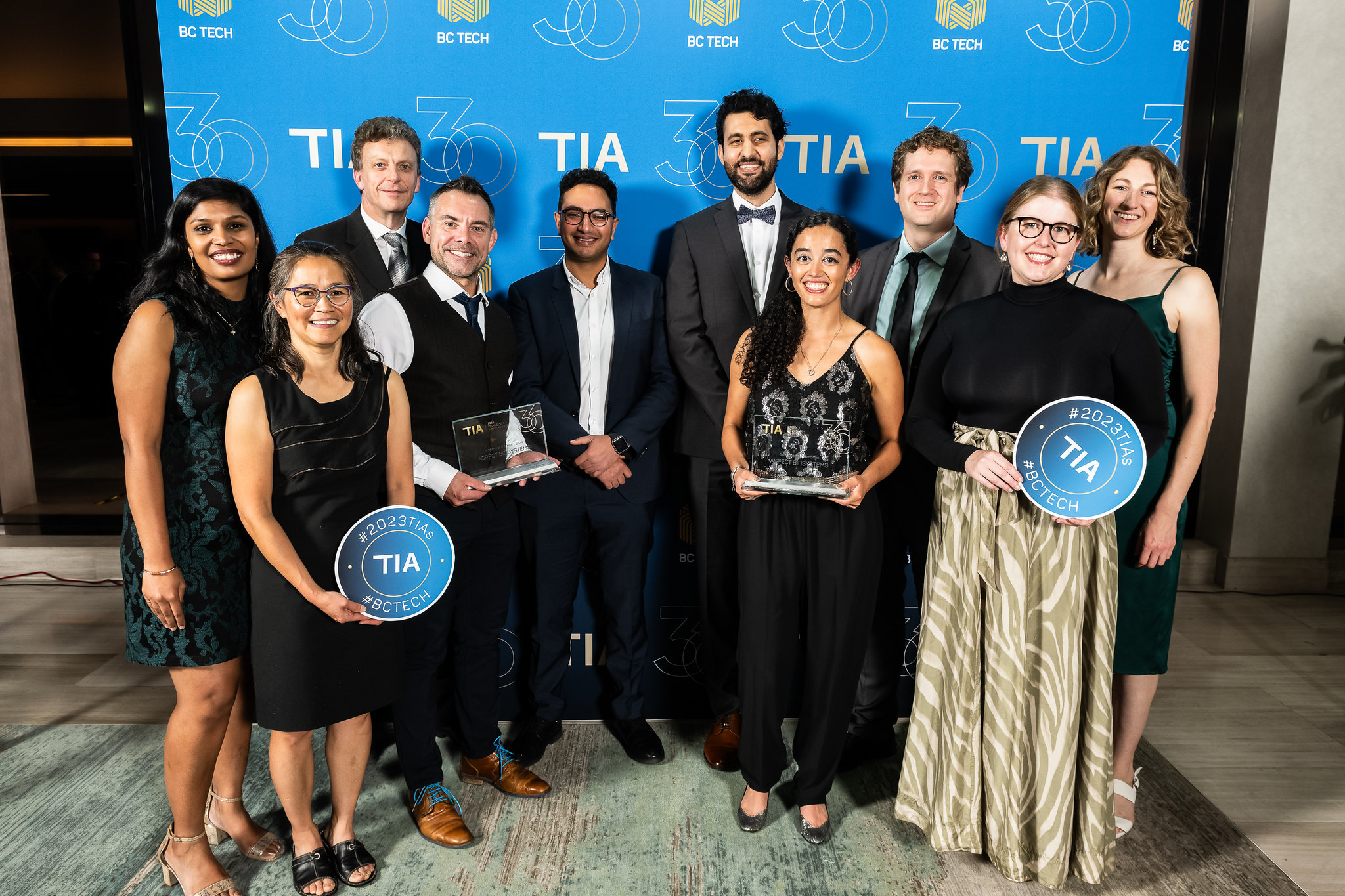 These awards are a testament to our amazing team, our bold vision, and our commitment to creating an anchor company here in BC. Among such a robust and impressive technology ecosystem, it is especially humbling to win not only one, but two awards. We are grateful that our ambition and vision to change the game in medicine is recognized by our peers.
Seven years ago, our team of less than 10 people won the Most Promising Startup Award at the 2016 Technology Impact Awards. Our journey since then has been nothing short of incredible: We have grown to more than 90 people, raised over $150 million in funding, and partnered with global leaders like Novo Nordisk to develop life-changing therapeutics for people living with serious diseases.
Acceptance speech from CEO Tamer Mohamed for "Company of the Year - Scale"
"Our team is really the backbone of our mission. We're trying to do something that many would call crazy: 3D printing living human tissues. And not just that, but transplanting these therapeutics into the body to save lives and tackle some of the most serious diseases. And it's no longer just a sci-fi story. It's an opportunity that's being recognized through major partnerships and we're so excited to be part of this ecosystem. We're going to do everything we can not just to be a successful company, but to contribute to this ecosystem for many many years to come."
Indeed, it's an exciting time for regenerative medicine and the life sciences industry in BC. The fact that 4 of the 9 awards presented at this year's gala were won by biotech companies this year (including our friends at AbCellera and STEMCELL Technologies) speaks volumes about the strides our sector is making in the province. We are proud to be part of this thriving community and are committed to building an anchor company here in BC.
Acceptance speech from CEO Tamer Mohamed for "Gamechanger - Ambition"
"What embodies what we're trying to do at Aspect is truly ambition. We're on an ambitious, bold mission here, and we're so proud to do this in British Columbia."
So, what happens now? These awards are a fantastic acknowledgement of the incredible progress our team is making to advance the development of our full-stack tissue therapeutic platform and therapeutic pipeline. But our work is just getting started. After a proper celebration, we are back to working tirelessly on our mission: developing bioprinted tissue therapeutics that we believe will have a transformative impact for people living with serious diseases.
Signed,
Tamer
Back to all