Vancouver, BC, Canada, October 4, 2021 - Aspect Biosystems, a biotechnology company pioneering the development of bioprinted cell therapies as medicines of the future, has announced that President & CEO Tamer Mohamed will present at the annual Cell & Gene Meeting on the Mesa to be held October 12-14, 2021 in Carlsbad, CA. This is the third time that the company will be presenting at this conference.
Organized by the Alliance for Regenerative Medicine, the Cell & Gene Meeting on the Mesa is a two-day conference featuring more than 100 dedicated company presentations by leading public and private companies, highlighting technical and clinical achievements over the past 12 months in the areas of cell therapy, gene therapy, gene editing, tissue engineering, and broader regenerative medicine technologies. Attracting over 1,200 attendees – over 20% of which are C-level executives – this conference enables key partnerships through more than 3,000 one-on-one meetings while highlighting the significant clinical and commercial progress in the field.
The following are specific details regarding Aspect Biosystems' presentation at the conference:
Event

2021 Cell & Gene Meeting on the Mesa

Date
Thursday, October 14, 2021

Time

11:00-11:15am PST (in-person, via livestream, and on-demand
following the conference)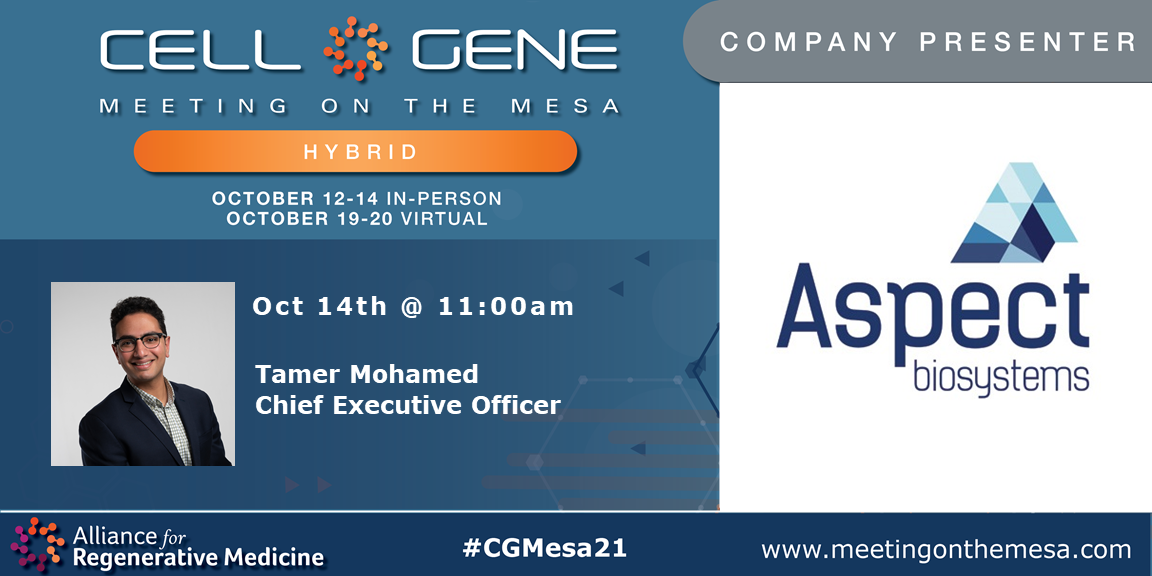 The 2021 Cell & Gene Meeting on the Mesa will be delivered in a hybrid format with live programming available over the course of three days. Virtual registrants will have access to all content via livestream during the program dates. Additionally, all content will be available on-demand within 24 hours of the live program time for all registrants to view.
Please visit www.meetingonthemesa.com for full information including registration.
About Aspect Biosystems
Aspect Biosystems is a biotechnology company creating bioprinted therapeutics as medicines of the future. Aspect is applying its microfluidic 3D bioprinting technology internally to develop these advanced cell therapies and partnering with leading researchers and industry innovators worldwide to tackle the biggest challenges in regenerative medicine. Learn more at www.aspectbiosystems.com.
Contact
Natalie Korenic
Aspect Biosystems
+1-604-263-0502
media@aspectbiosystems.com
Back to all