RX1 3D Bioprinter will be used to investigate novel disease mechanisms to enable the discovery of therapies for patients with chronic lung diseases
‍VANCOUVER, British Columbia - June 25, 2019 - Aspect Biosystems, a Canadian biotech company pioneering microfluidic 3D bioprinting of human tissues, is pleased to announce a collaboration with Dr. Jeremy Hirota – Canada Research Chair in Respiratory Mucosal Immunology – at the Firestone Institute for Respiratory Health located at McMaster University. Through this program, the Hirota Lab will use the RX1™ 3D Bioprinter and a unique biobank of patient-derived samples, to develop pulmonary models that will be used to identify novel diseases mechanisms and discover therapeutic strategies in chronic lung diseases such as idiopathic pulmonary fibrosis, chronic obstructive pulmonary disorder (COPD), asthma, and cystic fibrosis. Funding for this project was provided by Canada's Foundation for Innovation's (CFI) and the John R. Evans Leaders Fund (JELF). Under the terms of the agreement, Aspect has an option to license technology resulting from this collaboration for further development and commercialization.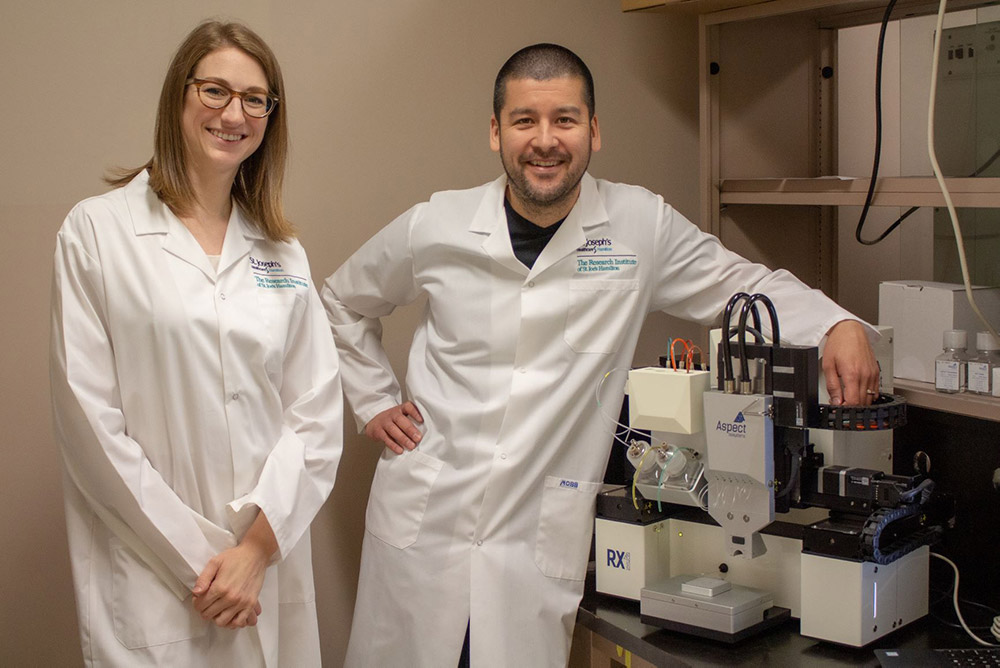 "Aspect is committed to forming research alliances with leading researchers in drug discovery," said Tamer Mohamed, Chief Executive Officer, Aspect Biosystems. "We are thrilled to partner with Dr. Jeremy Hirota and his team. This collaboration will use our broadly applicable microfluidic 3D bioprinting technology to generate advanced pulmonary tissues to discover novel therapeutic strategies that have the potential to positively impact the lives of millions of patients with chronic lung diseases."
"The RX1 3D Bioprinter will bring new technology to our lab to probe 3D microenvironments important in lung cell biology," said Jeremy Hirota, Assistant Professor of Medicine at McMaster University who also holds Adjunct Professor titles at the University of Waterloo and University of British Columbia. "Classical model systems used in many labs throughout the world are 2D and do not reflect human lung biology. By using Aspect's microfluidic 3D bioprinting technology, we will learn more about the lung in 3D and be positioned to develop new strategies that will help individuals with lung diseases."
‍
About the Hirota Lab at McMaster University
The Hirota Lab is developing an internationally recognized translational research program in respiratory mucosal immunology focused on lung health and disease. The Hirota Lab uses a translational research strategy with in vitro cell culture models, in vivo preclinical models, and clinical studies. The lab research is guided by three mutually reinforcing foci: i) patient-oriented research on respiratory mucosal immunology in health and disease, ii) small molecule drug discovery programs for commercialization opportunities, and iii) pure basic science, characterization of the biology behind innate immune receptor and related signalling pathways. Woven into these foci are the Hirota Labs efforts to create novel dynamic 3D model systems that incorporate mechanical forces (flow, stretch) that are reflective of the human lung environment.
‍
About Aspect Biosystems
Aspect Biosystems is a privately held biotechnology company pioneering microfluidic 3D bioprinting of living, human tissue. The company's proprietary technology is enabling advances in understanding fundamental biology, disease research, development of novel therapeutics, and regenerative medicine. In addition to its internal programs, Aspect is focused on strategically partnering with pharmaceutical and biotechnology companies, as well as academic researchers, to enable the creation of living, human tissues for medical research, therapeutic discovery, and regenerative medicine products.
Jeremy Hirota
Canada Research Chair in Respiratory Mucosal Immunology
Assistant Professor of Medicine – McMaster University
Affiliate Professor of Medicine – UBC
Adjunct Professor of Biology – University of Waterloo
Mobile - 905-518-0745
Email – hirotaja@mcmaster.ca
Email 2 – jhirota@mail.ubc.ca
Twitter - @jeremyhirota
LinkedIn - www.linkedin.com/pub/jeremyhirota/70/1ba/54a
Back to all