TERMIS-EU Workshop on 3D Bioprinting 2019
Nantes, France - August 26-27, 2019
Aspect Biosystems is heading to Nantes, France for the TERMIS-EU Workshop on 3D Bioprinting, August 26-27, 2019 and we would love to meet you there!
The European Chapter of the Tissue Engineering and Regenerative Medicine International Society (TERMIS-EU) is hosting this inaugural workshop on 3D bioprinting, focused on 3D bioprinting in cancer research. As part of this workshop, Aspect will be hosting a hands-on session on both days and will be presenting on our microfluidic 3D bioprinting technology. Learn more about the workshop and see the full program at https://www.workshop-termis.eu/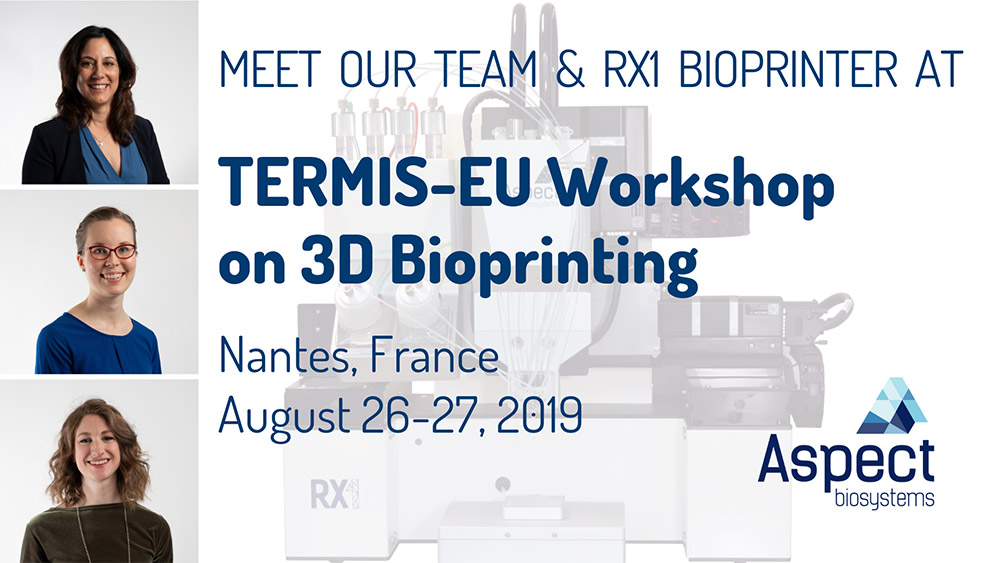 HEAR ABOUT OUR TECHNOLOGY
Microfluidic 3D bioprinting technology for the fabrication of functional human tissues
Monday, August 26 at 13:40
Join our Manager of Academic Alliances and Applications Scientist, Elli Käpylä, to learn more about our microfluidics-based approach to 3D bioprinting.
JOIN OUR HANDS-ON SESSION
Microfluidic 3D bioprinting: bringing creative control to tissue engineering
Monday, August 26 & Tuesday, August 27 - 15:30-18:30 - Room 5
Don't just look at our RX1 Bioprinter - get right in there and operate it! We will be hosting hands-on sessions on both days of the workshop to give attendees the opportunity to learn more about our technology by using it. Through this session you will get hands-on experience with our Aspect Studio software and learn how our microfluidics-based approach to 3D bioprinting really works.
Want to schedule a time to meet? Connect with us by email at nataliek@aspectbiosystems.com
Back to all