"Printing the Future of Therapeutics in 3D" June 10-12, 2018 in Vancouver, BC
Printing the Future of therapeutics in 3D (PFT3D) 2018 is an exclusive roundtable event centered around facilitating discussion and collaboration on the development of commercially and clinically relevant life-saving tissues.
Aspect Biosystems and The University of British Columbia are proud to be co-organizing the second annual International Research Roundtable on Printing the Future of Therapeutics in 3D.
‍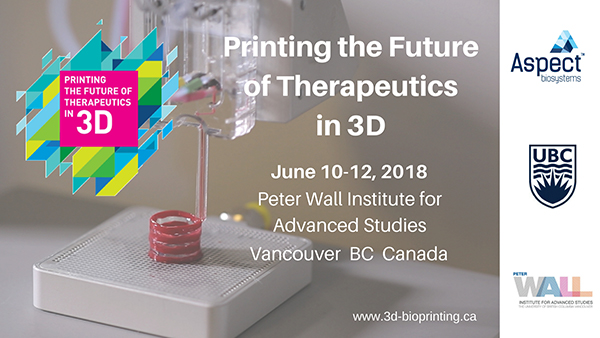 Last year's inaugural event saw speakers from a wide variety of both academia and industry to discuss the amazing potential and applications of 3D bioprinting. This year, the roundtable will take place over 3 days and includes 16 speakers, covering four key areas:
Functional biofabricated tissues for disease modeling, therapeutic discovery, and regenerative medicine
Platform technologies to recreate biological function
Biomaterials for the development of functional tissues
An industry perspective on tissue engineering technologies
At Aspect Biosystems, we are fully committed to a vision where life-saving drugs are quickly discovered and brought to market because of engineered tissues; where transplant organs are created and personalized, not harvested. To realize this bold vision, we recognize that it takes strong and interdisciplinary collaboration. Through platform technology, we're building an ecosystem that fosters collaboration via academic and industry partnerships to get high-impact, life-saving tissues to market. PFT3D is organized around this core value.
By the end of this meeting, we want you to leave with new inspirational ideas on groundbreaking projects, new partners and opportunities for collaboration, and a fresh perspective on the needs of industry and the translation of academic research.
In addition to our roundtable talks, there will be focused discussion sessions to address a variety of key challenges in our industry, facilitated networking sessions to stimulate interactions, and an opportunity to visit Aspect Biosystems facilities to see our RX1 Bioprinting Platform in action.
‍
More details, including our list of speakers, can be found at the PFT3D 2018 website here.
Back to all